It's been quite the year for HootSuite and we thank all of our owls for their support in 2011. From all of us at HootSuite, have a happy holiday!
Is this email not displaying correctly?
View it in your browser.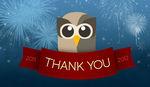 Hello!
With the HootSuite team constantly focusing on what's next, it's easy to lose sight of how far we've come. Looking in the rear view mirror, 2011 was clearly a watershed year for us. The HootSuite community soared from just over 1 million sign-ups at the end of 2010 to more than 2.7 million – nearly tripling our userbase in one year.
Within this whirlwind of progress, we realize we wouldn't be where we are today without the continued support of our beloved owls – including you. Special thanks to each of you for contributing to our collective social media revolution.
On and On
From championship finals and tsunamis, to revolutions and state of the unions, we've helped people connect and broadcast what's important to them. Sometimes triumphant, sometimes tragic, and at times trivial, our beloved dashboard is a medium to help spread information, joy, hope, and... a remarkable amount of cat videos.
For a thorough month-by-month rundown of the year – from events to releases to retreats – be sure to visit the HootSuite blog to see our favorite memories and milestones.
Festive Greetings
From everyone at HootSuite HQ, we wish you and yours a happy holiday and a healthy and prosperous new year. We are honored to build social media tools for you and truly look forward to hoot'ing along with you for years to come.
(Top Row) Dave, VP Community; Greg, VP Biz Dev; Simon, CTO (Lower Row) Ryan, CEO; Mika, dog
HootSuite is a Trademark of HootSuite Media, Inc. More: HootSuite Online Media Kit.
Sent to ontarou@gmail.com − why did I get this?
unsubscribe from this list | update subscription preferences | forward to a friend | view in browser